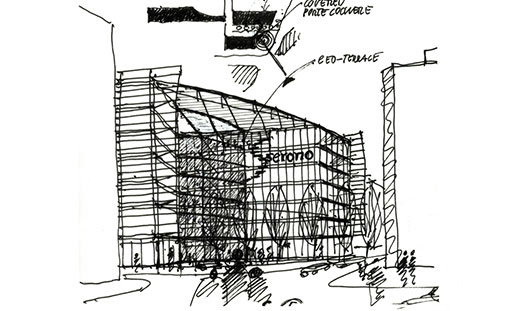 Innovative architecture
Campus Biotech is located in the old industrial district of Sécheron, near Lake Geneva.
The building has been created with people in mind: a practical, efficient workspace that places great value on fostering interactions, dialogue and intellectual and scientific productivity.
Campus Biotech is home to a relatively new method of scientific discovery that continues to evolve, breaking down barriers between institutions, between disciplines, and between research and industry.
The architectural competition and subsequent design process for Campus Biotech was led by Dona Bertarelli. The team of Helmut Jahn, Werner Sobek and Matthias Schuler were selected because of their vision for a technologically-advanced building that would flawlessly integrate architecture and engineering.
A system of open, covered and convertible spaces make their way through the campus, like a network of streets and public squares. They all lead to the central atrium, with its retractable roof and large pivoting doors, which blur the interior and exterior boundaries of the building.
The fundamental technological concepts are behind the design. First, the new glass technologies maximised lightness and simplicity, allowing for the highest transparency. Second, sustainable strategies were integral, minimising energy consumption and maximising comfort for the building's occupants.
Sustainability
Ever since it was envisioned in 2000, the building that is now home to Campus Biotech had environmental principles at the heart of its architectural design, not least the use of a 100% renewable energy source: the water from nearby Lake Geneva.
The building was is a pioneer in Geneva, as it opted to use "GeniLac" energy, a groundbreaking and sustainable innovation developed by local energy provider SIG, the Services Industriels de Genève, which developed the "Genève Lac Nations" (GLN) project, one of the most ambitious 'green' developments in Switzerland and indeed in Europe.
Water from the lake is the main energy source for the building and it significantly reduces the environmental impact of this unique global research center.
During winter the lake water is used to heat the building and during the summer the lake water goes through an intercooler to refresh the premises. To date, 100% of the energy required for cooling is renewable, and Lake Geneva water provides up to 75% of the energy to heat the Campus.
Moreover, Campus Biotech takes part in the SIG_Genève éco21 program to reduce the energy consumption and the CO2 emissions of the whole building. Aligned with the objectives of the Confederation (Energy Strategy 2050) and of the Canton of Geneva (Société à 2000W), it aims to make Lake Geneva the most energy-efficient region in the world.